These Ikea room ideas provide the perfect inspiration for those looking to create a stylish and functional home on a budget.
Offering everything from modular, self-assembling kitchen cabinets and storage systems to beds, sofas, lighting and soft furnishings, Ikea is a one-stop shop for affordable and flexible decorating ideas for every room.
Known for its simple and functional Scandinavian design, Ikea's pieces sit beautifully in contemporary and traditional settings, plus there are styles to suit all interior design tastes from industrial to traditional. Alternatively, Ikea's affordable standard size pieces make a great base to get creative with some Ikea hacks.
Whether you're doing a complete home redesign or making updates to specific rooms, these Ikea room ideas will help inspire your projects, from show-stopping Ikea kitchen ideas to relaxing ikea bedroom ideas.
Ikea room ideas
Ikea room ideas are perfect if you're looking for practical, affordable home decor ideas and are enduringly popular with homeowners, interior designers, and DIYers alike.
'It's hard to compete with the value that IKEA can offer because of its scale and history. Almost everyone I know is on a budget, so IKEA's cookie cutter pieces are appealing because you have an affordable, blank canvas to get your creative juices flowing,' says Isabella Cordaro, Principal Design Advisor at Norse Interiors (opens in new tab).
"Social media has definitely helped spread the trend of doing Ikea hacks and other home projects, which I think is great because it shows people how attainable the finished look is without breaking the bank." Once you start doing fun DIY projects that lead to something you love, it's pretty addicting. IKEA's furniture is super modular and offers the best legs for further customization.'
1. Create a stylish kitchen on a budget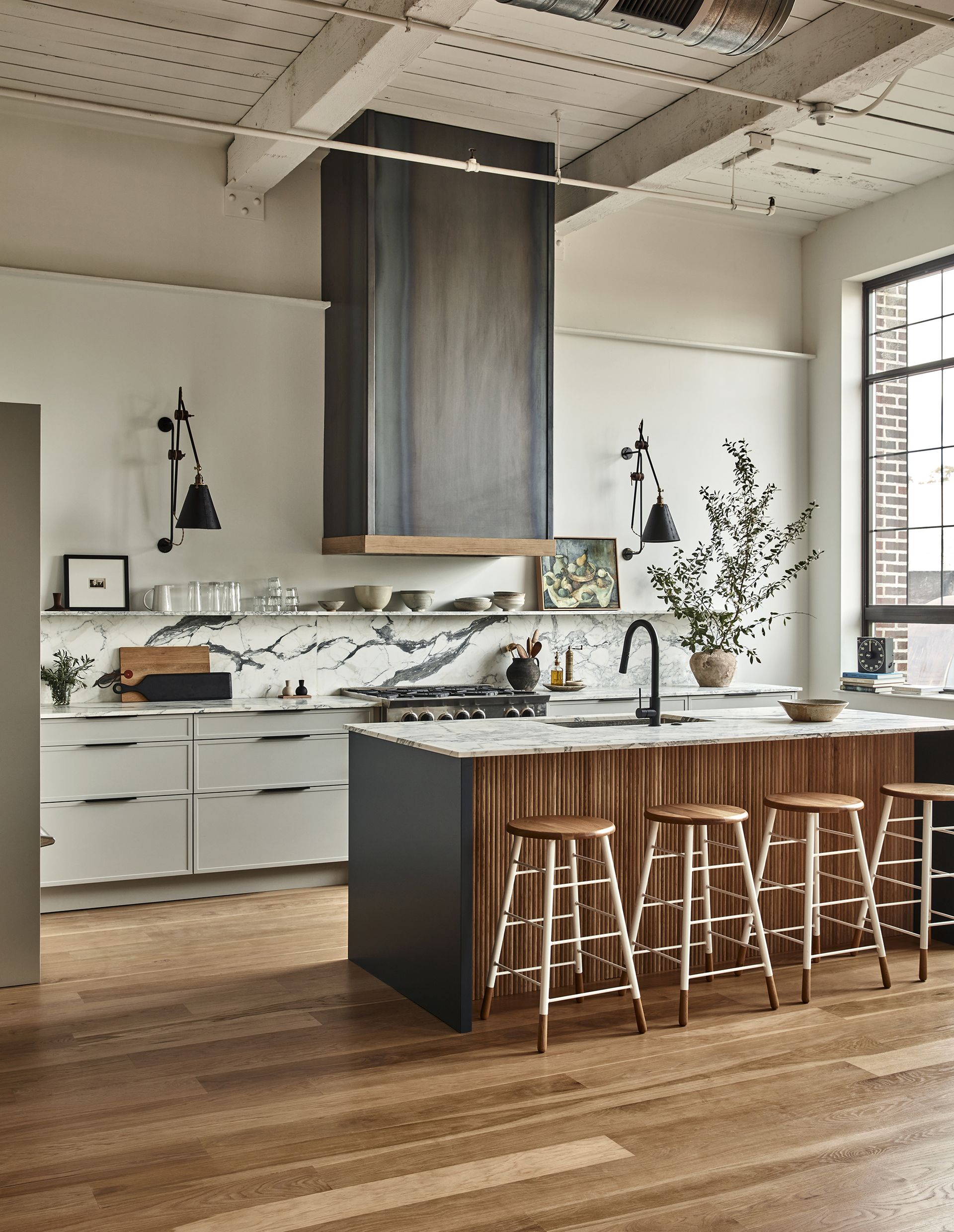 Combining sturdy self-assembly Ikea kitchen cabinet ideas with custom doors is a great way to create a functional kitchen with a designer look at an affordable price.
In this modern kitchen, Semihandmade's (opens in new tab) simple Quarterline doors in a neutral color are the perfect backdrop for showcasing more textured surfaces such as the heavily veined marble counters and cane island panels. With their slim outer frame, the doors offer a modern take on Shaker kitchen design.
2. Use Ikea cabinets to create a home office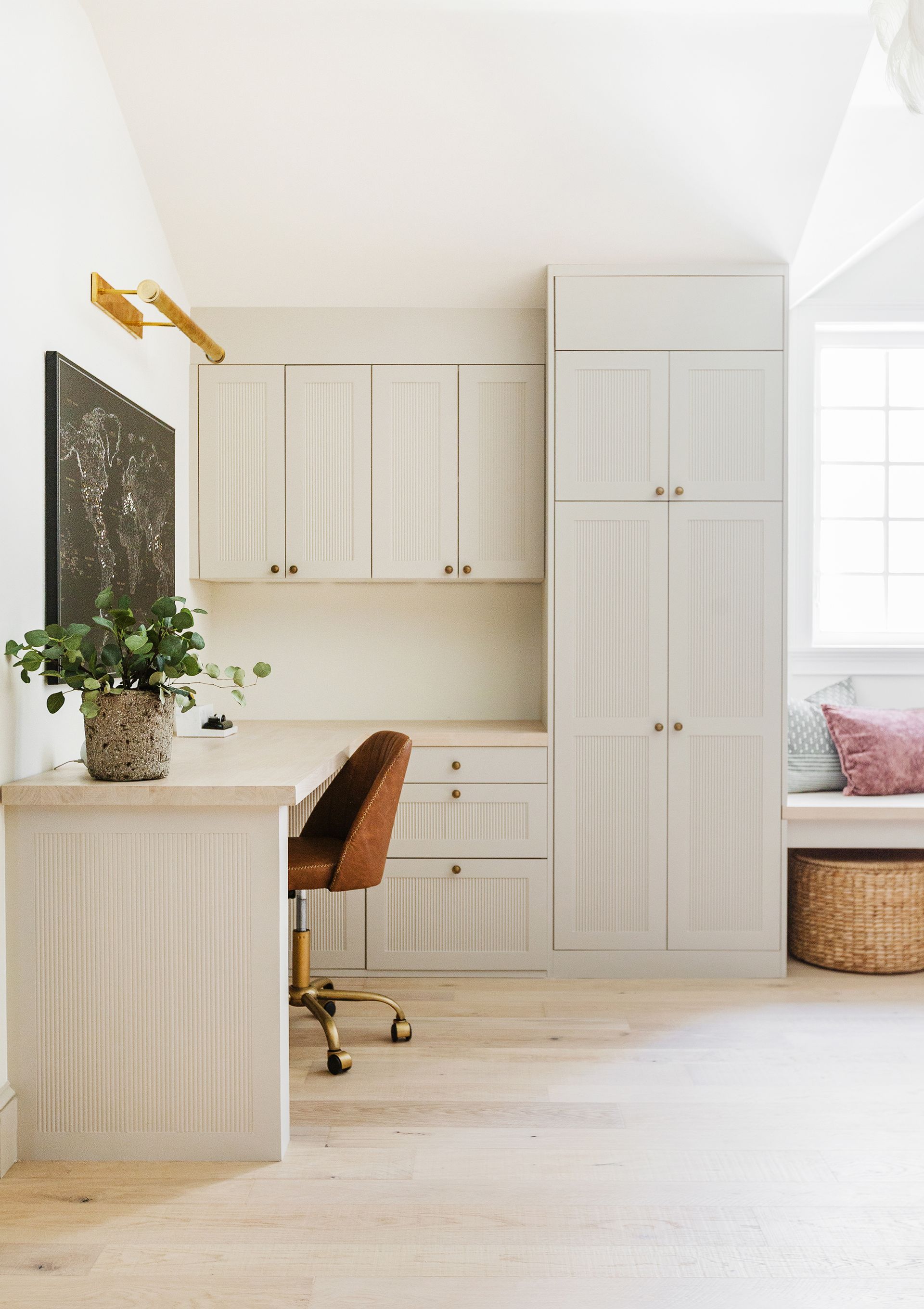 As more people now work from home, living spaces often have to double as home offices, which can make work-life balance difficult.
Opting for closed and customizable storage ideas, such as Ikea's Sektion design, will provide enough storage to stash away papers, printers and files at the end of the day so work doesn't intrude on family time. The cabinets can be arranged in a multitude of ways to suit your room size and storage needs, plus can be equipped with different storage solutions, including adjustable shelves and sliding wire storage baskets.
Above, blogger Jenna Sue (opens in new tab) created a workspace using Sektion cabinets and Semihandmade's DIY shaker doors.
3. Increase living room storage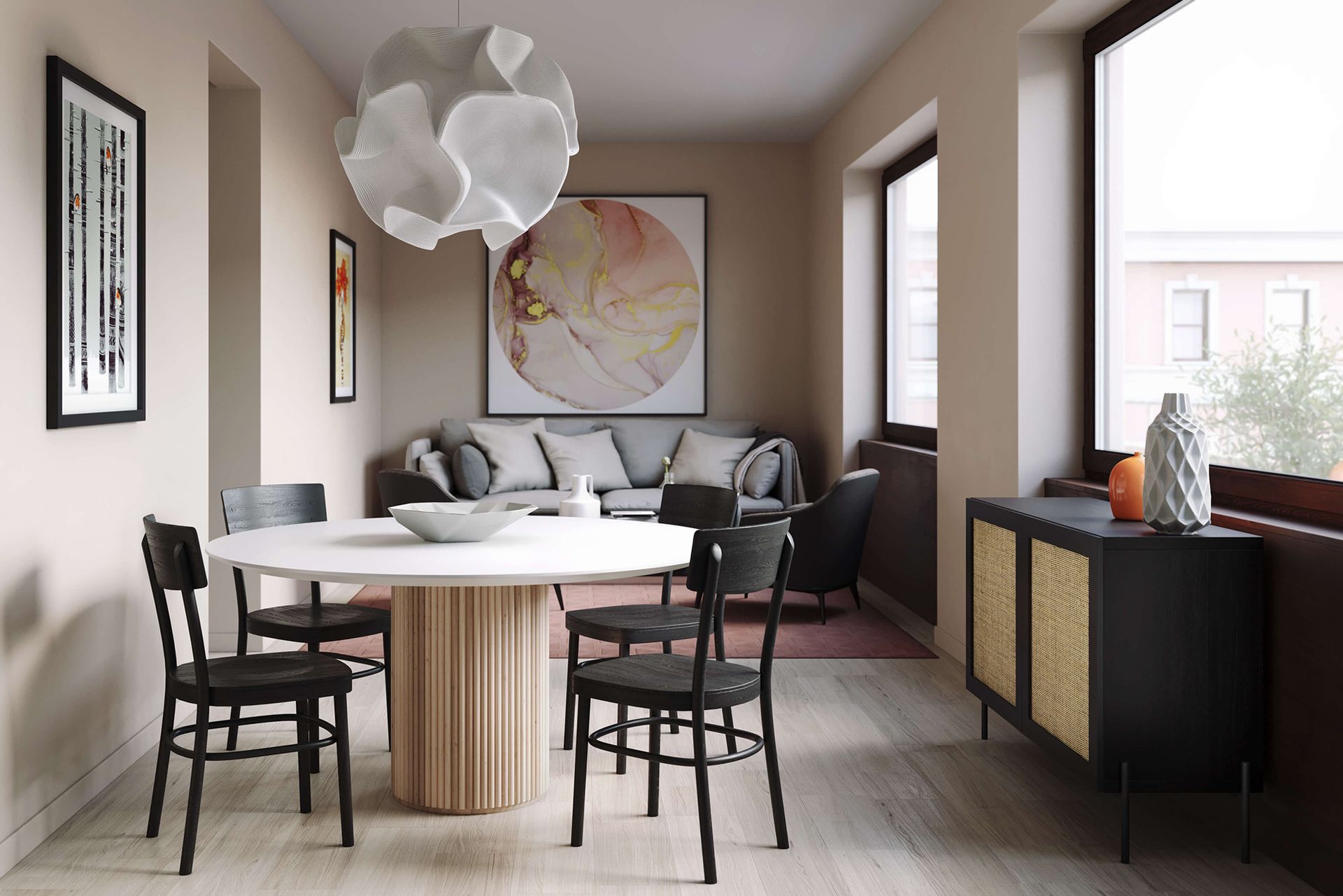 In small open-plan living spaces, it's essential to consider storage to ensure the room feels organized and relaxed. In this living-cum-dining space, a simple Ikea BESTA cabinet makes a perfect credenza for storing serving dishes and has been transformed into a statement piece with the addition of black wicker doors from Norse Interiors.
'Storage wicker doors have been a bestseller for some time now, but in the last few months we've seen them become most popular paired with darker finishes such as charcoal black, navy blue and luxurious green. This contrasting look can be adapted to so many design styles, giving your unique piece a little more character,' says Isabella Cordaro, Principal Design Advisor at Norse Interiors (opens in new tab).
4. Keep a mudroom organized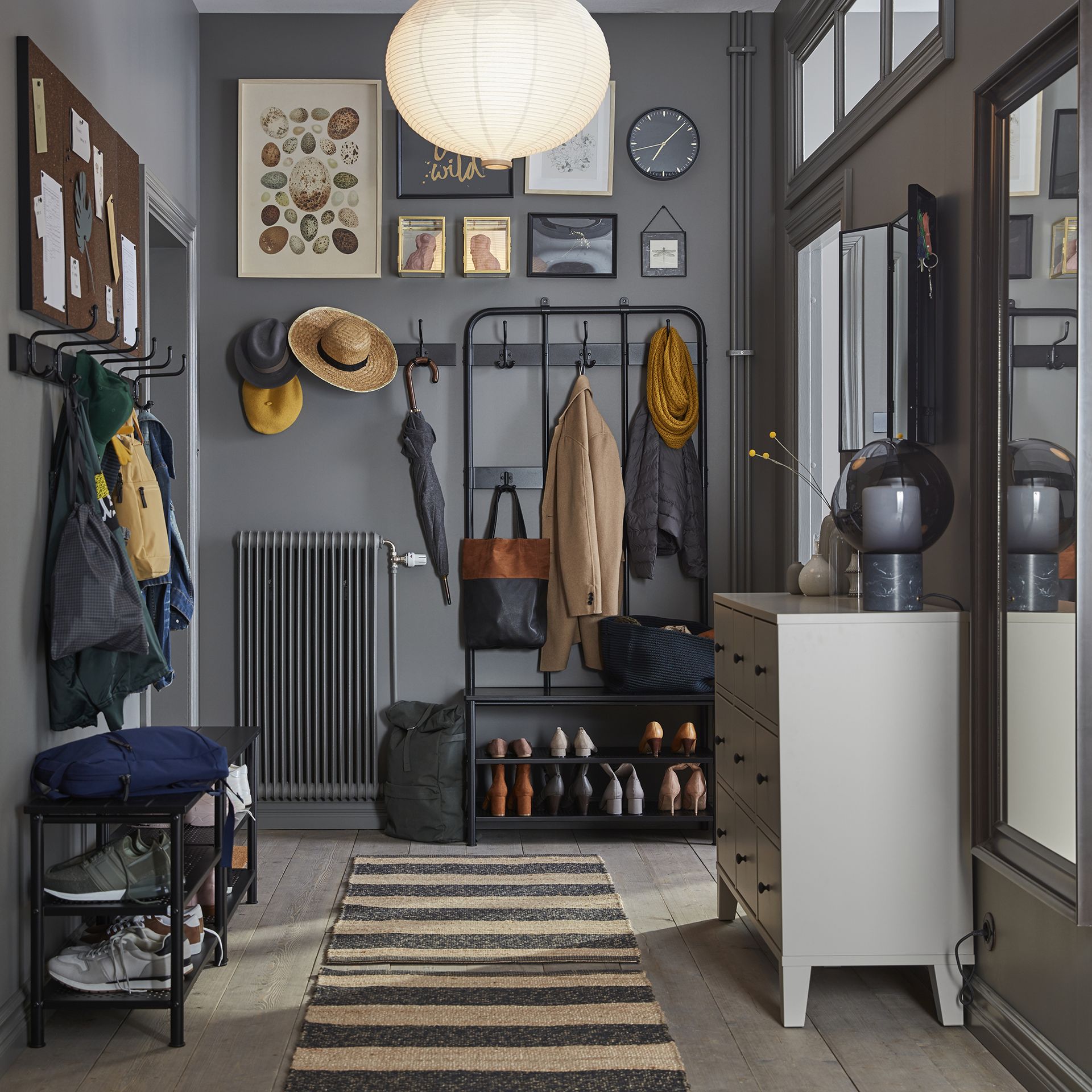 When it comes to mudrooms, having plenty of storage space is essential as these are areas with high footfall and where things often pile up. Ikea has a host of flexible, multi-functional pieces to help keep the space organized, including its PINNIG coat rack and bench that offer plenty of storage, as well as a seat for putting on and taking off shoes.
Above it is teamed with the BRYGGJA chest of drawers which keeps clutter at bay, while the addition of the KARMSUND mirror is perfect for checking your appearance before leaving the house.
5. Create a small home office with freestanding furniture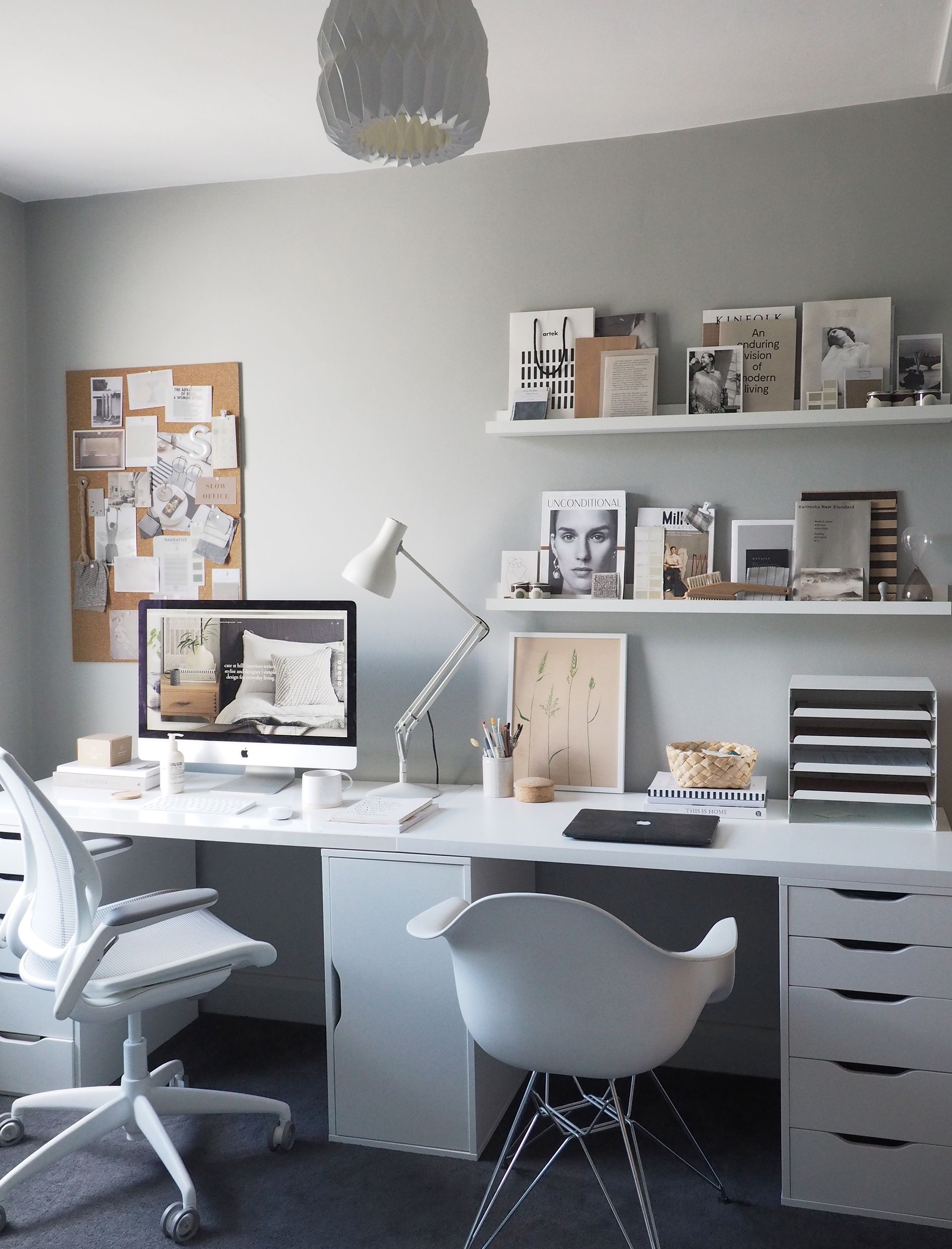 If you have a small home office, freestanding furniture may be a better solution than fitted as it gives you flexibility over your layout and sometimes just a few pieces are all you need to transform a space.
Interior designer and stylist Cate St Hill (opens in new tab) created a simple yet stylish workspace with Ikea's ALEX drawers and the LINNMON white table top.
6. Upgrade your dining room chairs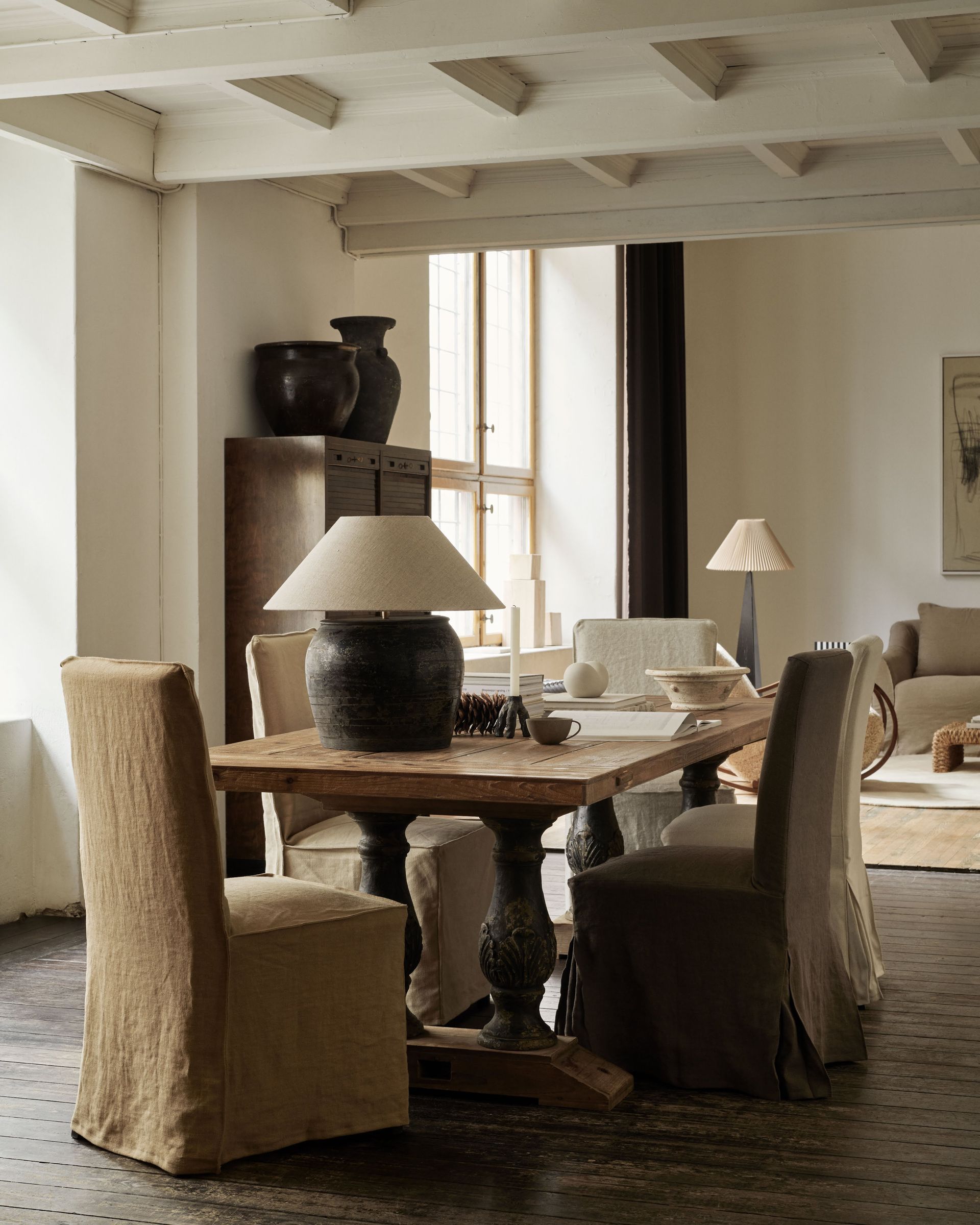 Give a dining room a chic and sophisticated new look with custom covers for Ikea dining chairs. Crafted in Brera linen in a variety of earth tones, this Bemz (opens in new tab) Henriksdal chair slips bring essential warmth and texture to this neutral dining room.
7. Decorate your bathroom cabinet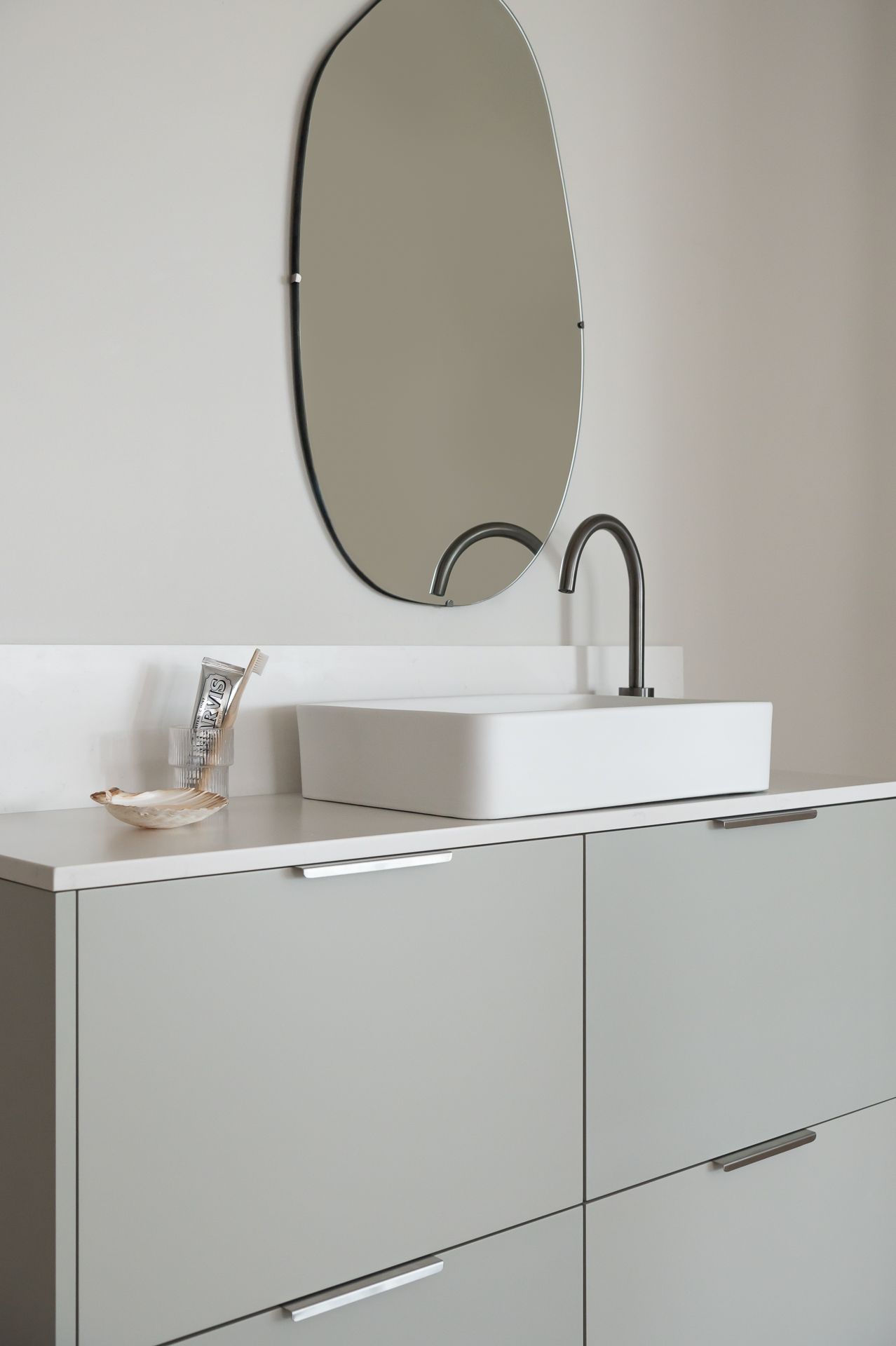 Ikea cabinets don't have to be limited to the kitchen, they also make fantastic bathroom storage ideas, explains the team at Fonteriers (opens in new tab)which offers custom doors for Ikea furniture systems.
"They're also ideal for laundry rooms, bathrooms or anywhere you need large modular storage," says Fronteriors co-founder Kathryn Hawkes of the Ikea Metod system. 'Metod cabinets are sturdy and mounted to either the wall or floor (for islands). This allows you to use stone/marble counters with ease. For more stability, you can also add wooden or metal support frames around the sink.'
'The Metod range has cabinets designed specifically for sinks and plumbing, so make sure you choose the base cabinets for sinks wherever you want sinks. If you choose base cabinets for a sink with drawers in 60 cm depth, the Ikea planner automatically suggests a drawer configuration to give space for the siphon to pass through. Keep in mind that counter top/opposite sinks are the better option with drawers,' adds Kathryn Hawkes.
8. Create a beautiful focal point in a bedroom with a custom headboard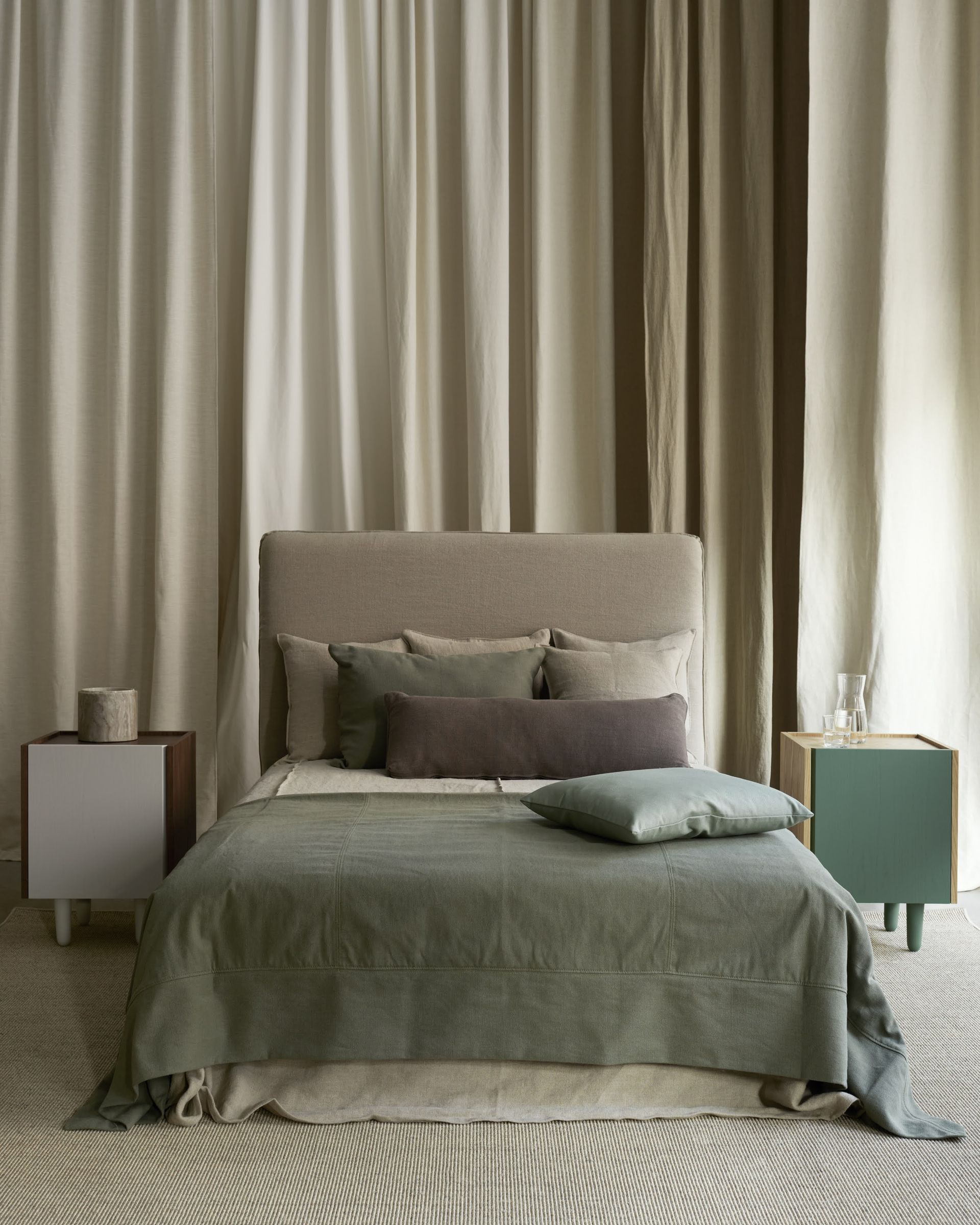 When it comes to bed ideas, comfort is a priority, but as the piece of furniture that takes up the most space in a bedroom, it also needs to look good.
In addition to sofa and chair covers, Bemz offers covers for Ikea bed frames and headboards in a variety of materials that allow you to transform a standard bed into a centerpiece that looks much more expensive.
If you already have an Ikea bed or sofa, Bemz covers are a sustainable way to instantly elevate your space. Rather than part with a perfectly good bed, a new bed frame cover from Bemz can completely revive it and help reduce waste, and Bemz also offers covers for discontinued Ikea beds.
9. Add stylish hallway storage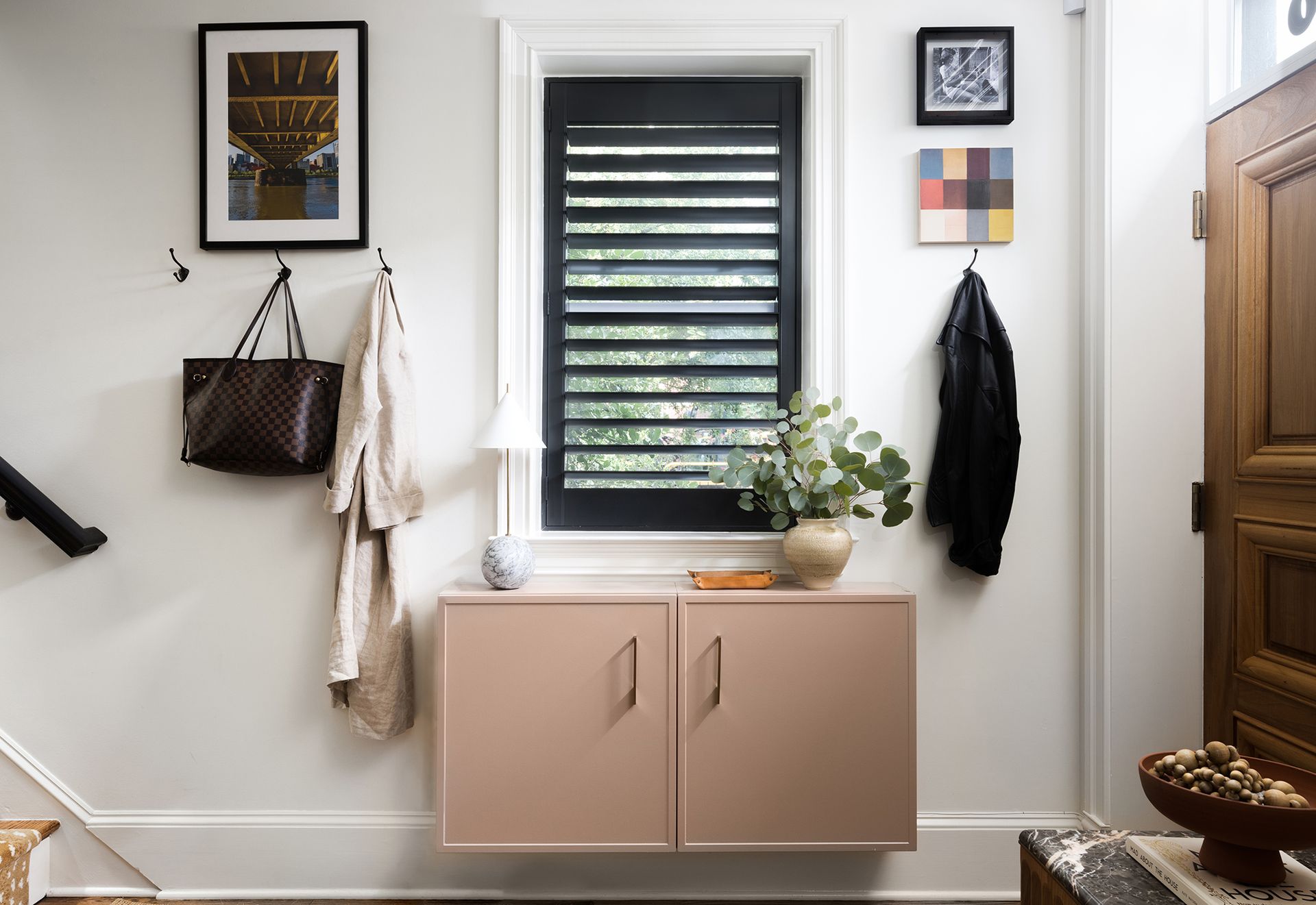 Storage is essential in a hallway, but it can be difficult to find functional storage that also looks good. The wall-hung BESTÄ cabinet from Ikea makes a great hallway storage idea, as it offers space to hide small items such as gloves, hats, torches, etc. without taking up valuable floor space and provides a surface for a table lamp or decorative items.
Above, interior designer Taylor Edwards (opens in new tab) fitted pink doors from Semihandmade (opens in new tab) to the closet to bring a welcoming pop of color to what could be a forgotten space.
10. Make the most of your space with an Ikea room divider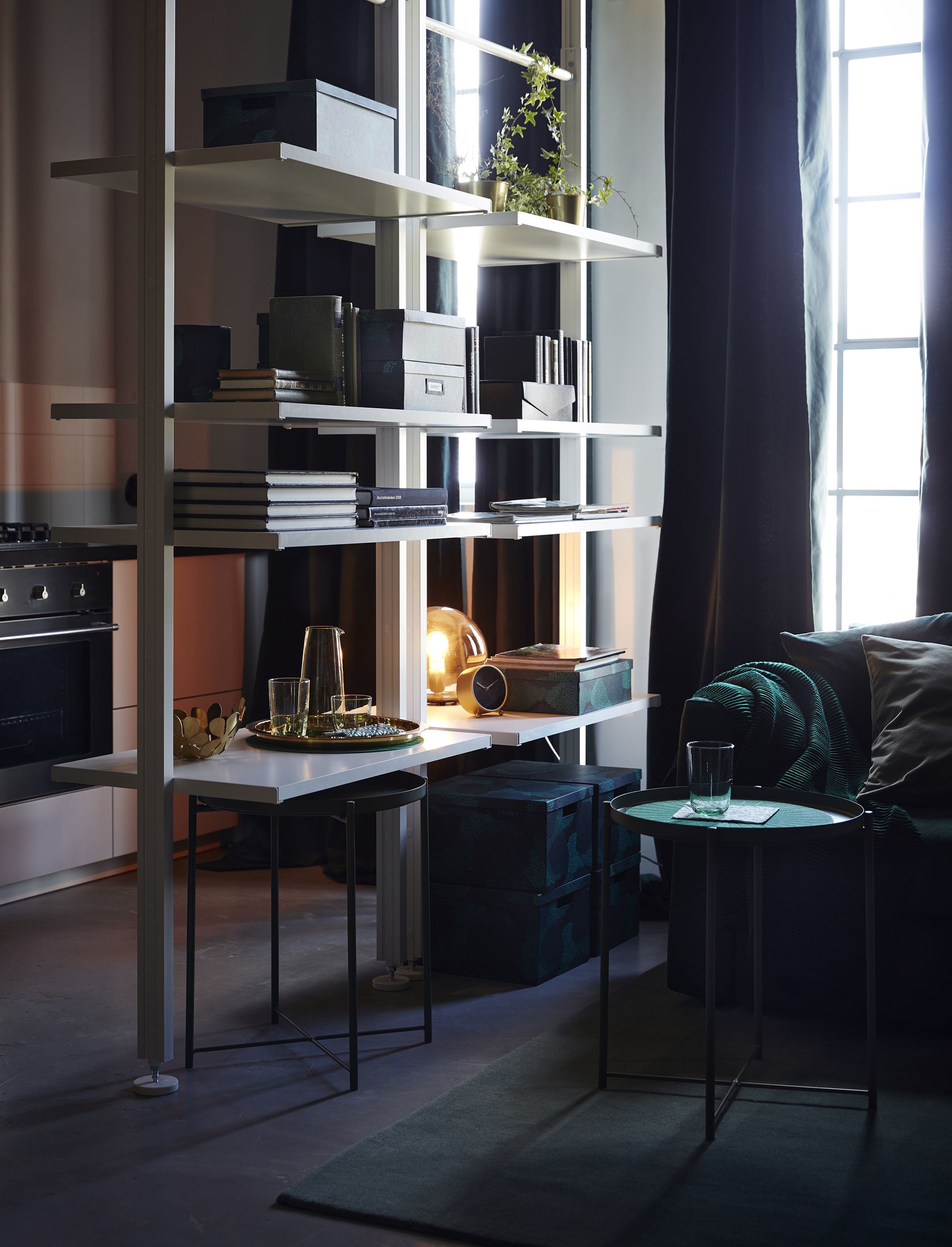 Today, many homes are working harder than ever to fulfill all kinds of uses from leisure to work and hobbies, and it can be difficult to find space for all of these, especially in open-plan living spaces shared by multiple members of the household.
Whether it's a strategically placed shelving unit, a portable screen or a simple curtain, Ikea room divider ideas are a great way to embrace split-plan living rooms and instantly create separate functional areas within the same space.
How can I decorate my small Ikea room?
To decorate a small Ikea room, think about limiting furniture to essential pieces and opt for lightweight, freestanding designs that will bring flexibility to your layout as well as furniture with built-in storage.
'Built-in storage is so important for small living spaces – some of our sofas, sofa beds and ottomans have built-in storage for bed linens and your other belongings,' says Kimberly Kronberger, Ikea (opens in new tab) American business leader for lounge seating. 'Smart storage keeps things hidden or displayed, with the ability to show or hide your stuff based on your space and what it's being used for.'
It's also worth considering how to make the most of the height of the room, says Isabella Cordaro, chief design advisor at Norse (opens in new tab)Indoors (opens in new tab).
'When working with a smaller space, creativity and build-up are your greatest assets. Mounting and stacking units have been popular storage solutions with our Ikea-loving community because they allow you to take advantage of the vertical space in a small or even narrow room.'
How can I make my Ikea room feel luxurious?
Customizing pre-made Ikea cabinets with designer doors is a quick and easy way to make an Ikea room feel more luxurious.
"Adding finishing touches to doors or drawers such as a beautiful handle or new leg accessory will also refresh your bedroom space with very little effort or cost," says Monica Born, CEO and co-founder of Superfront (opens in new tab).
'For a dramatic look, why not opt ​​for our 'Harlequin' pattern wardrobe or storage fronts in a rich 'Infinity Blue' color which is a striking yet elegant combination,' she adds.
'Designers working on higher-end projects usually choose our Eva door design because it evokes a bit of Gatsby/Jazz Age glamour, while curved lines add softness and femininity to the hard edges of the piece. It blends with so many decor styles and is really unlike any other look on the storage market,' says Isabella Cordaro, Principal Design Advisor at Norse Interiors.
You might also consider upgrading an Ikea sofa, armchair or bed frame with a Bemz slip in sumptuous velvet or natural wool to give your space an instant high-end feel.