One of the most fun holidays or celebrations throughout the year is the Cinco de Mayo party. There's none of the stress that comes with the Christmas holiday season, and it's a chance to enjoy some time with your friends and family and celebrate Mexico's victory over the Battle of Puebla (NO, it's not Mexican Independence Day not. Nice try though.)
Whether it's a day just with the girls, a way to drink margaritas with your friends, or a time to celebrate your Mexican heritage, Cinco de Mayo is a great opportunity to embrace your inner party planner . And we've got the perfect DIY Cinco de Mayo decoration ideas to get you started.
With spring in full swing and the weather warming up, you have the option of having your Cinco de Mayo party indoors or outdoors. However, if your area is prone to rain, it's probably best to play it safe with an indoor party. Watered-down guacamole isn't good for anyone.
The great thing about planning a holiday-based party is that it allows you to work around a fun theme, but also be creative. Even the presentation of the food and drink served can be part of your party's decor.
Especially when it comes to a Cinco de Mayo party, there are classic Mexican-inspired decorations, foods, and drinks that you can use.
Food staples like pico de gallo salsa or tacos are always popular, and although the Cinco de Mayo drink is a margarita, you can also serve sangria or popular Mexican-made beers like Corona or Pacifico.
Party decorations can include things like Mexican flag colors, sombreros, or cactus plants. Bright colors in general are great to use.
While we'd like to think we have all the best tricks for planning an epic Cinco de Mayo party, sometimes it's good to gather other ideas as well, including DIY options. We can see what works for us and get inspired.
Use these creative DIY Cinco de Mayo decoration ideas to help plan your upcoming celebration:
1. Make colorful Corona bottle bouquets.
Credit: Pinterest
Use bright paint colors to decorate leftover Corona beer bottles to make beautiful flower bouquets.
2. Serve some Jarritos Mexican soda.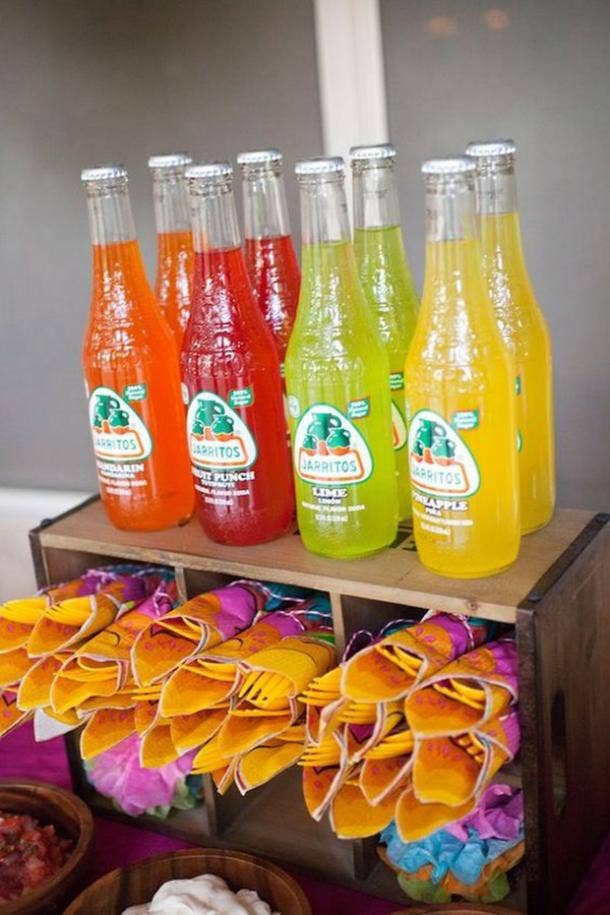 Credit: Pinterest
Made in Mexico, these colorful sodas can be non-alcoholic drink options or just used for decoration.
3. Why not make a self-serve burrito bowl bar?! YUM.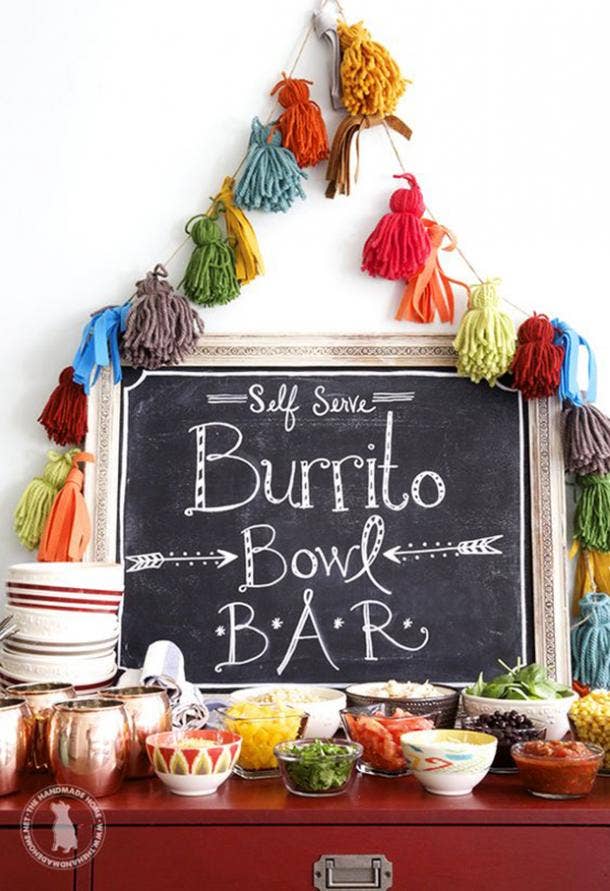 Credit: The Handmade Home
A creative way to decorate the food area, while also letting guests know they can help themselves.
4. OMG churro cupcakes. You can't go wrong with these.

Credit and full recipe found on: Domestic Rebel
Cinnamon-sugar and vanilla cupcakes topped with a piece of a baked churro.
5. Make some simple cactus centerpieces for a Cinco de Mayo dinner party.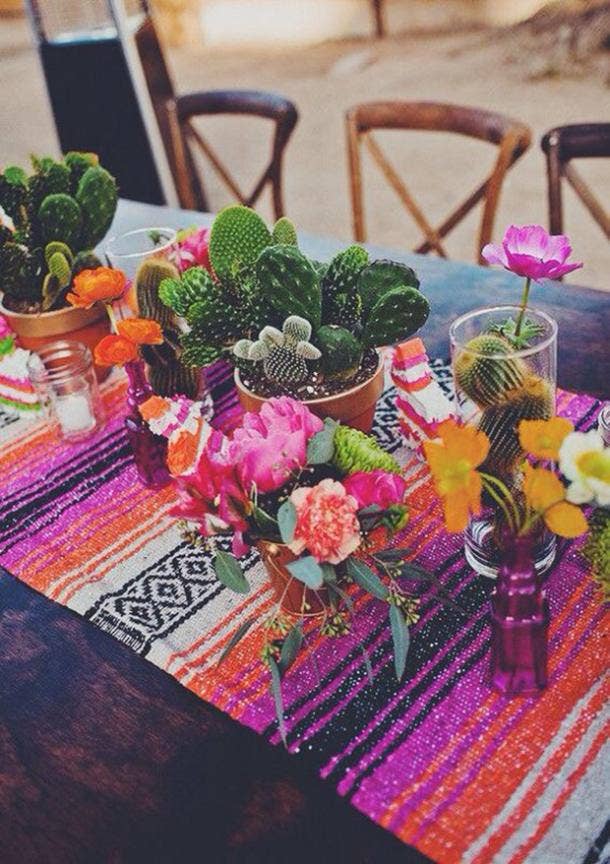 Credit: OK Chicas
A beautiful Southwestern accent for the dining table.
6. Make a flower vase with your favorite empty tequila bottles (after making the margarita mixes, of course.)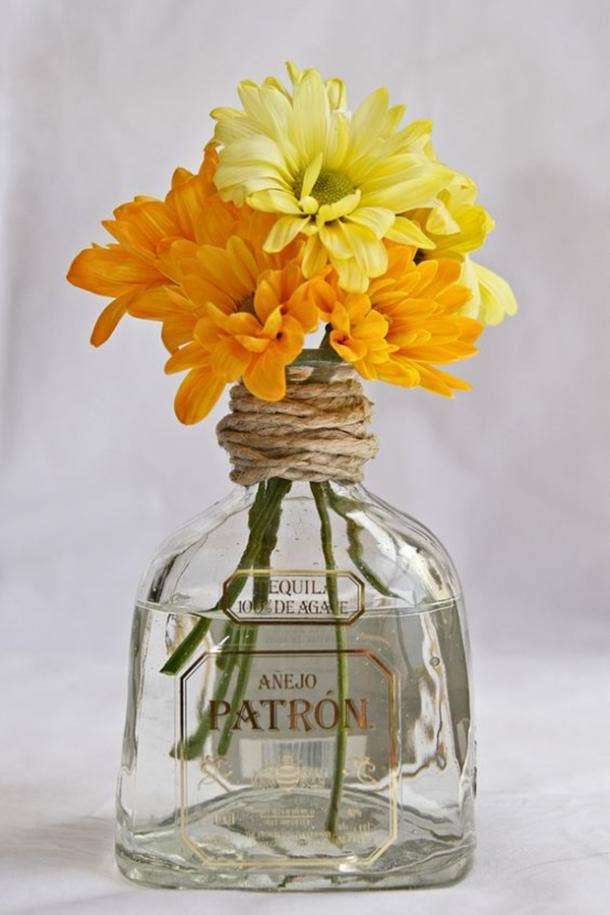 Credit: Courtney Alexander Design
A perfect way to use up that bottle of tequila you had.
7. Leftover salsa cans to hold flowers or cacti for centerpiece decorations.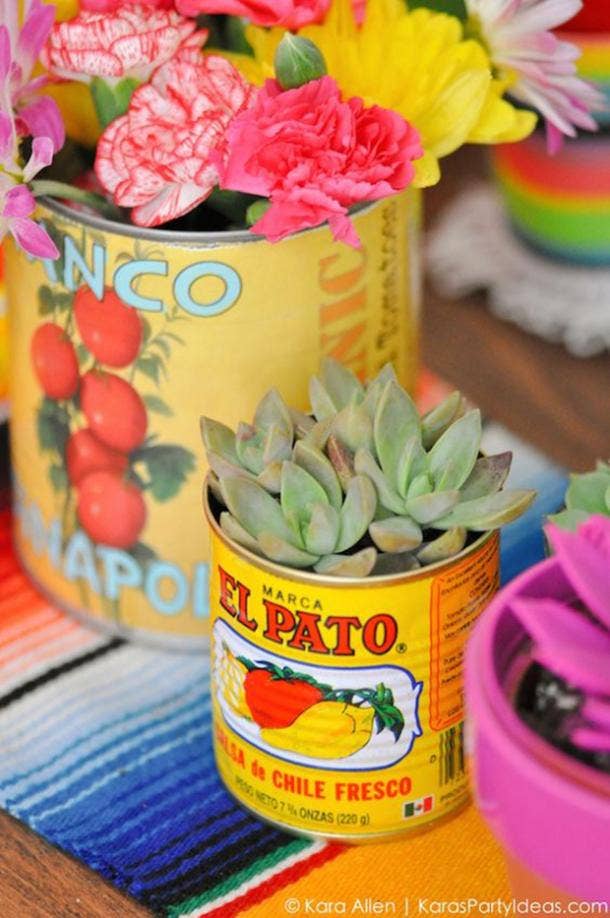 Credit: Kara's Party Ideas
Creative use of leftover salsa cans from authentic Mexican food brands.
8. It's easy to make your own papel picado banners.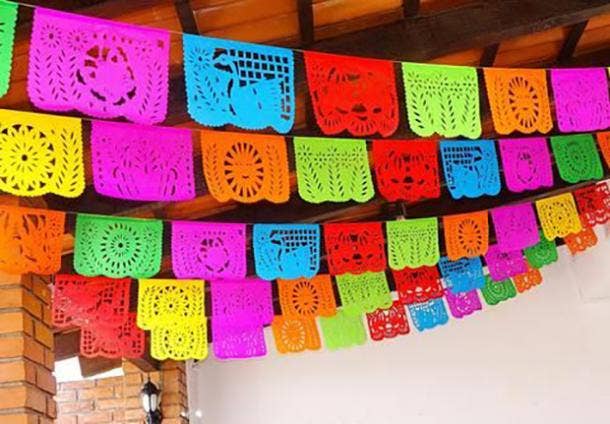 Credit: Mex Fabric Supplies
These bright paper banners have unique designs and can be hung throughout the party area.
9. Get creative and make a chili candle centerpiece.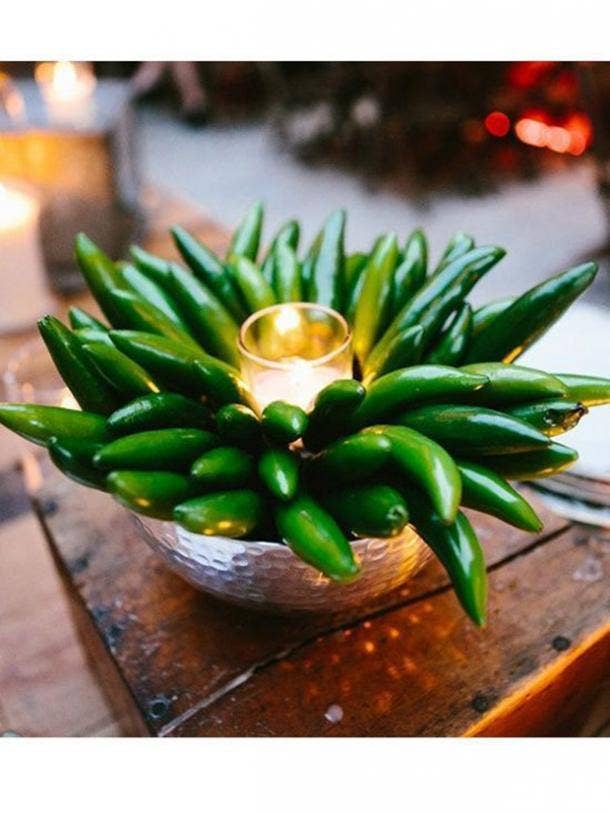 Credit: Eat Well 101
Peppers can be difficult to eat, but that doesn't mean they should be completely excluded from the party.
10. Make a sombrero and maracas wall decoration.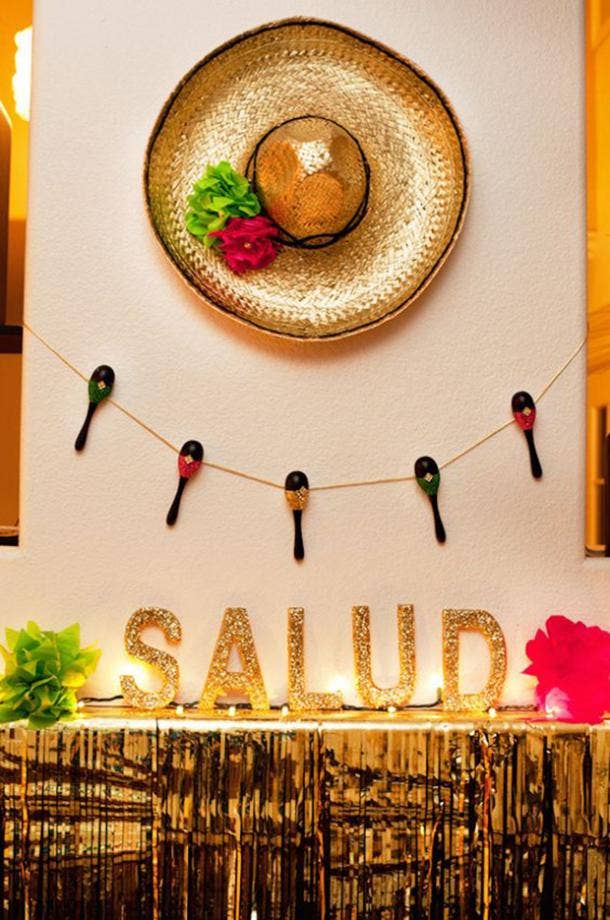 Credit: Hostess With The Mostess
A cool way to incorporate a sombrero and maracas into your party decor.
11. Colorful paper lanterns can be a cheap and easy way to decorate.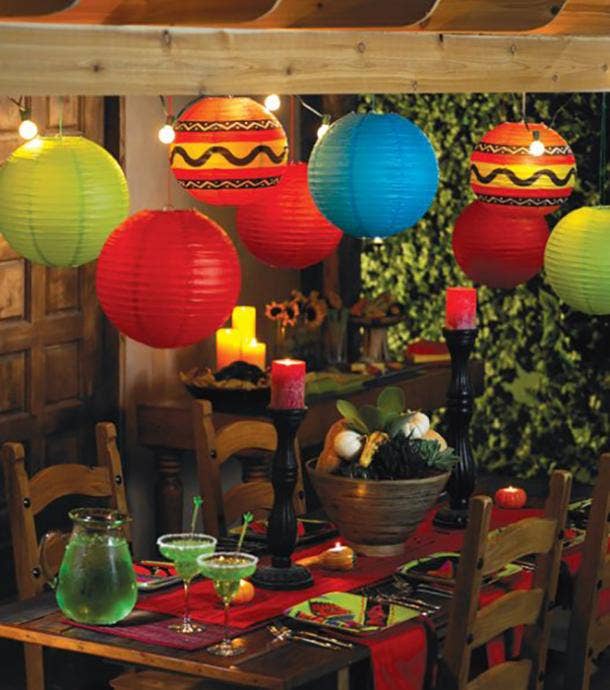 Credit: In The Kitchen With Cherchies
These are perfect for an evening, outdoor Cinco de Mayo party.
12. Make a paper flower arch with some tissue paper.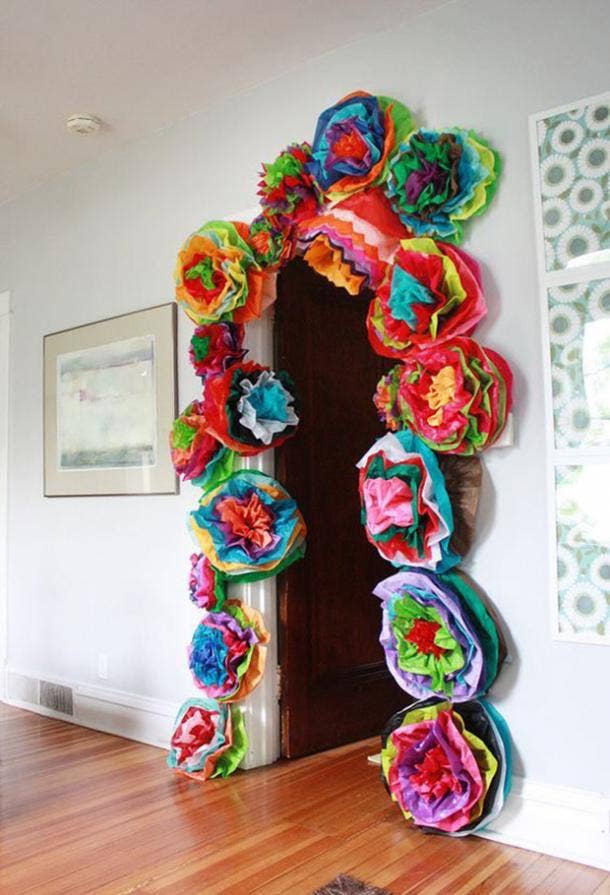 Credit: My Mercado Mexican Imports
Beautiful decoration to greet your guests when they arrive.
13. Margarita cupcakes for the win!
Credit: The Inspired Home
Tequila and lime cupcakes garnished with a slice of fresh lime.
14. Cactus cookies are super cute.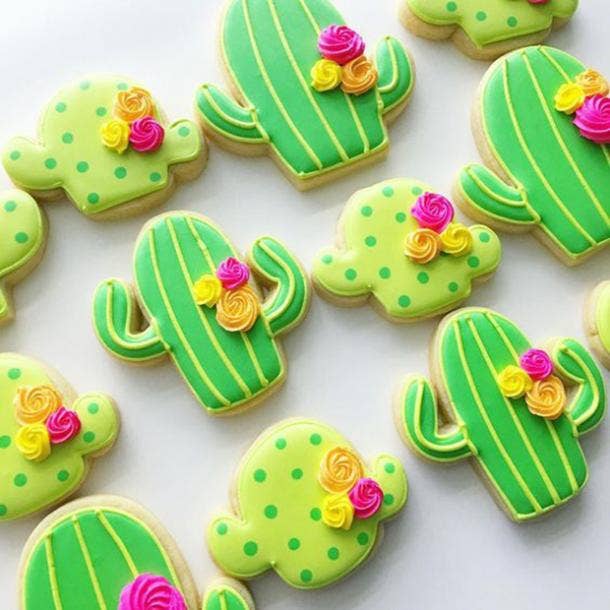 Credit: BlueSugarCookieCo on Instagram
Southwest-inspired dessert delights.
15. Play on words wall decor with some colorful balloons and scrap ribbons. Super DIY.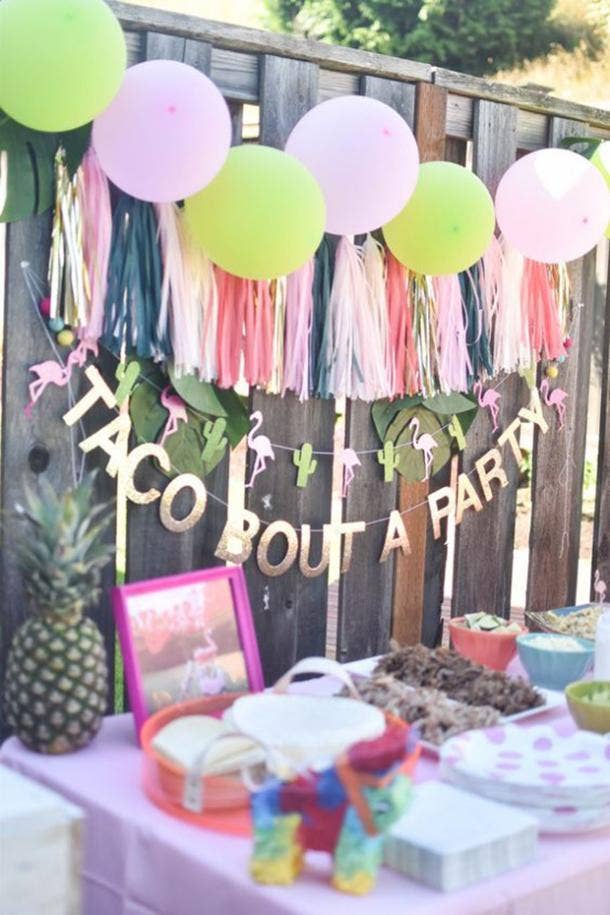 Credit: Cute 766
Your party will be the taco the town.
Related stories from YourTango:
16. Mason jar makes margaritas mobile (and gives your party a Pinterest-y feel!)

Credit: Living Locurto
A creative way to serve your guests margaritas and give a parting gift at the same time.
17. Sombrero Cookies with Candy Inside – YUM!
Credit: Hungry Happenings
Now that's how you have a cookie.
18. Chalkboard makes an easy spot for an important party PSA.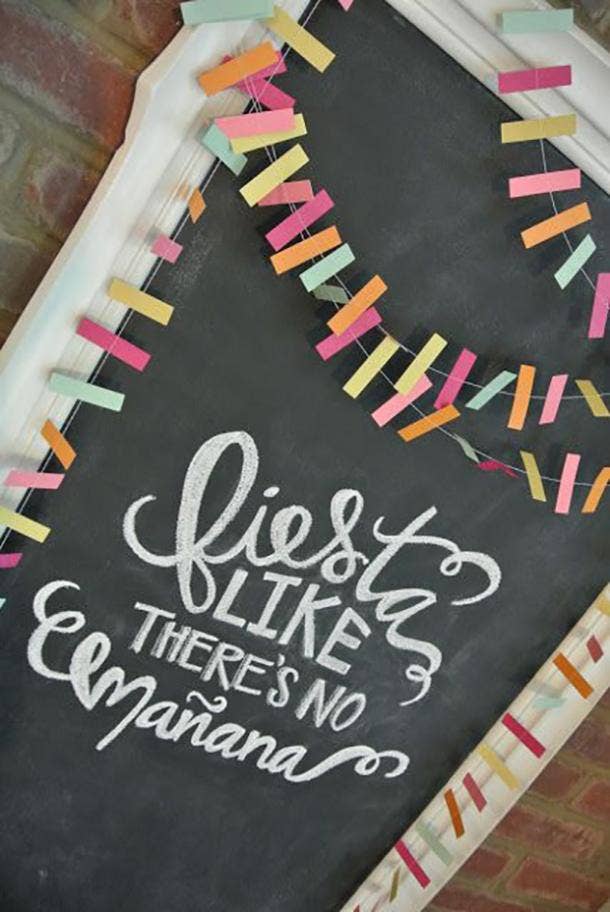 Credit: Garvin & Co.
A fun way to remind everyone what really matters: party like there's no manana!
19. Create a flower vase filled with cut limes.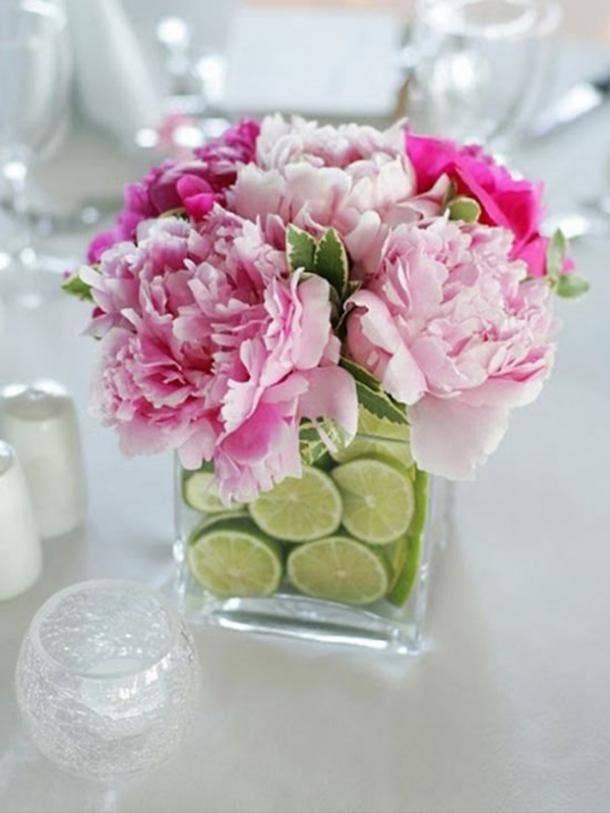 Credit: Wedding Chicks
Who says limes only have to go with the margaritas?
20. This Avocado Piñata is a cute twist on a classic donkey.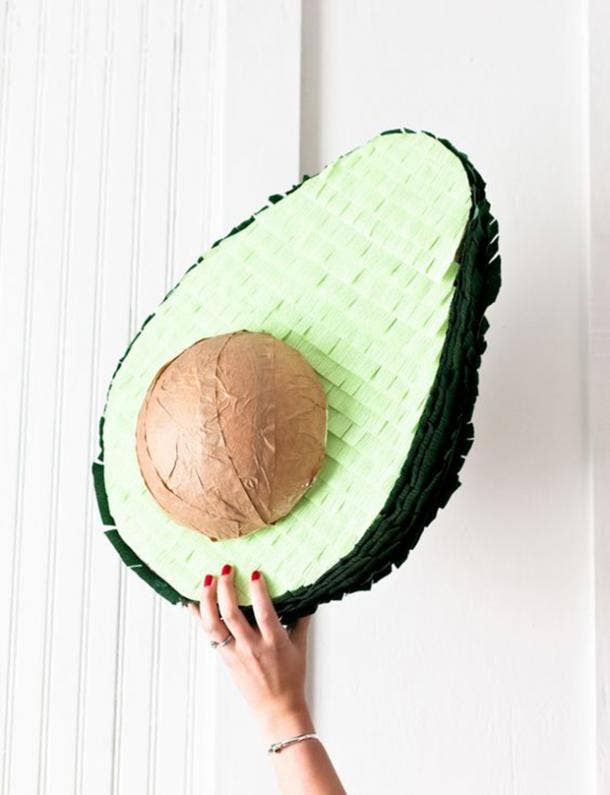 Credit: OhCarlene
When your love for avocados, piñatas and Cinco de Mayo comes full circle.
More for you on YourTango:
Jill Zwarensteyn is a writer and Michigan native. When she's not writing, Jill enjoys taking Zumba class, traveling, and referencing classic Seinfeld episodes.
.