In the latest post on Instagram, Sonam Kapoor shared glimpses of her son Vayu's nursery with her fans. It was a post of appreciation for people who helped her and her mother, Sunita Kapoor, set up this cozy space for the newborn.
The beautiful nursery has wallpapers, wooden furniture and toys for little Vayu. Look.
Design
Image courtesy: Instagram/sonamkapoor
Vayu's nursery is a small space with wallpaper on the ceiling and walls. The scenery has trees, clouds, animals and birds. They were taken from stores of Wall Paper Scissor, run by Dhwani & Bhumika. They offer custom landscapes that can instantly enhance the look of any nursery.
The room has a cot, chair and dressing table made of finished wood. It was designed by Anusha Nanavati, who owns Anusha Nanavati Design Studio. She marvels at designing nurseries that can make little people feel at home. Kapoor said she designed the nursery for her in no time without any drama.
The actor wrote in her caption, "I was very sure that Anusha and Wallpaper Scissors would do a beautiful job of making my nursery in Bombay a thing of wonder and beauty and boy was I right!!!"
Furniture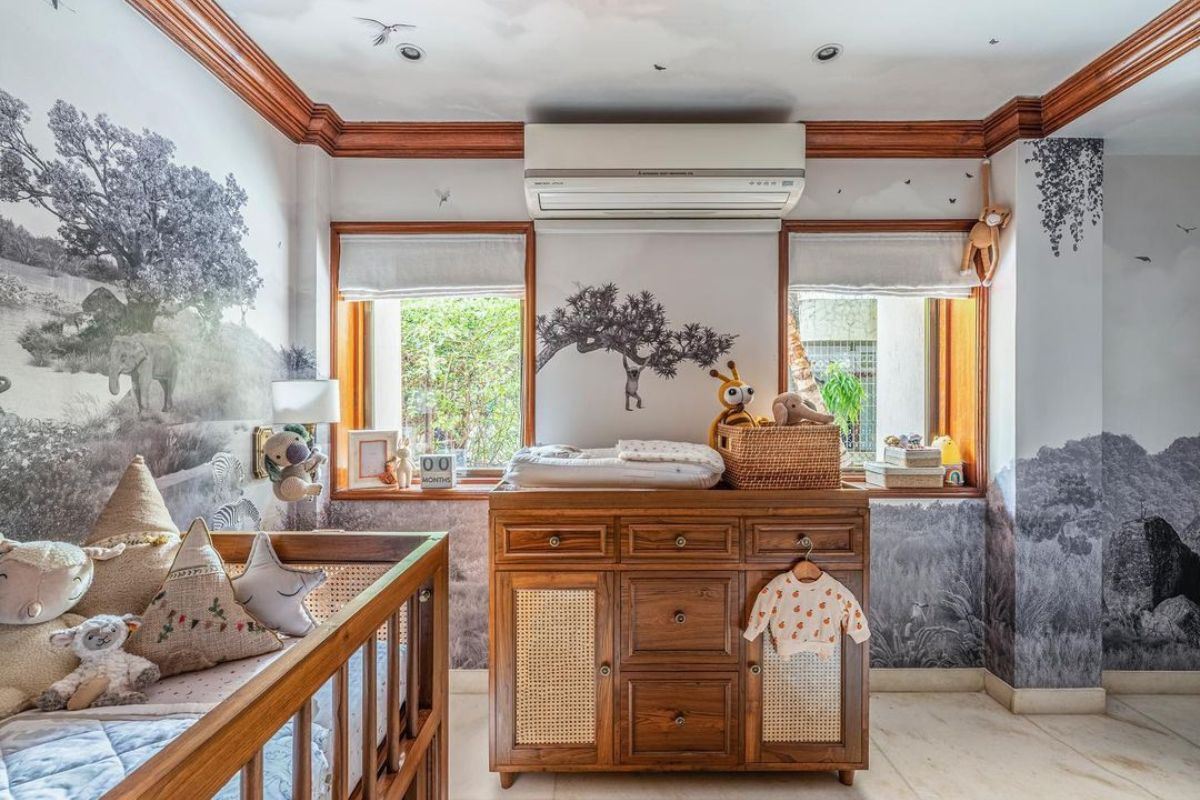 Image courtesy: Instagram/sonamkapoor
Vayu's room has a cot with a white net curtain. It has a cozy bed with pillows for the utmost comfort of the baby. The room has a dressing table with multiple drawers for story essentials for the baby. The top of the table had a space to change a diaper.
The other side of the room has a wooden closet to store clothes. It also has a rocking chair in front where the new mother can rest and feed her baby.
Don't miss: Upgrade home with items under ₹500
Dinky Nirh helps the actor to put together everything for the baby and her needs. Sukeena Rao, founder of Luminaire helped Kapoor with maternity clothes and Vayu's wardrobe. She wrote: "Thanks to you, my baby is the most beautiful boy there is."
Sonam Kapoor also thanked Organize with Ease by Rohini for being considerate and bringing everything together in the nursery while keeping track of the actor's OCD (obsessive compulsive disorder).
Special thanks to Sunita Kapoor
Image courtesy: Instagram/sonamkapoor
In the end, the actor thanked her mother Sunita Kapoor for "moving heaven and earth for everything. I love you, mom."
The nursery beautiful for which Sonam gave everyone their credit. She wrote: "This is not an ad, but a nod of gratitude to the kind women who helped a new mother."
Don't miss: ideas inspired by famous homes to add a splash of color
Celebrities like Mira Kapoor, Lisa Hydon and Megha Kapoor have gushed about Vayu's nursery and praised its beautiful decor.
Also look
Did you like this article?
Download HerZindagi App for seamless experience

.