Candles are my favorite home decor finds; no matter how many I have, I can't stop (and won't stop) collecting them. They set the atmosphere of your space, making it feel more elevated and comforting. They are the finishing touches to a peaceful home. With the holiday season upon us, I needed to add to my arsenal of candles to match the cozy season's atmosphere. I was browsing Target for fall candles and came across the Threshold 3-Wick Wooden Amber Glass Candle in Rose and Cedar ($26). This candle stood out because it had wooden wicks rather than cotton cells. The wood pellets are supposed to mimic the fireplace experience and give a soothing crackling sound when burned. As a self-proclaimed candle connoisseur, Threshold's line of 3-Wick Wooden Amber Glass Candles is something I had to experience.
What I love about the Threshold 3-Wick Wood Amber Glass Candle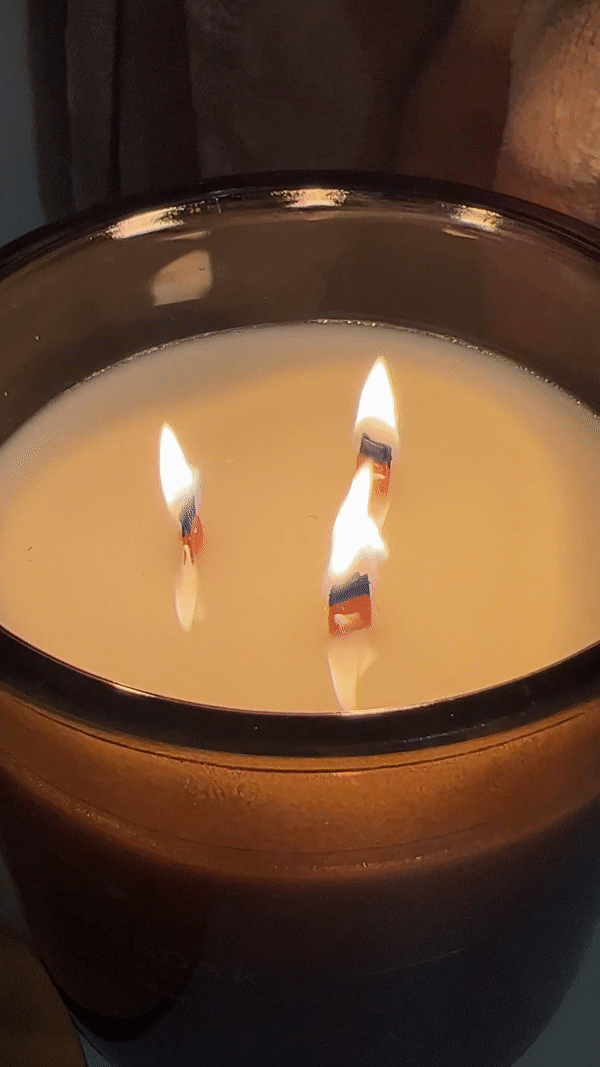 Every time I light the Threshold 3-Wick Wood Amber Glass Candle, I enter a moment of calm and serenity. Each log makes a soft crackling sound that provides the ASMR that my cozy season has been missing. It truly sounds like firewood crackling in a fireplace, but of course a little quieter. The candle instantly transformed my space into something peaceful with a cottagecore vibe. The cracking sounds were so soothing that they almost lulled me to sleep.
I got the Rose and Cedar scent, and it has a lovely mix of fresh and earthy notes. It has a floral and light top layer with woody depth that adds an intimate and comforting atmosphere to any space. I light this candle almost daily for about an hour (or two), especially when I want my space to reflect the coziness of the fall and winter months. Depending on whether I'm sitting on the couch in my living room or drinking tea in bed, I take this candle with me when I'm ready to relax. The amber colored glass jar matches my neutral colored space perfectly. It's simple and elevated with a modern farmhouse flair that adds warmth to my counters and side tables. This candle is a complete sensory experience.
What is worth noting about the Threshold 3-Wick Wooden Amber Glass Candle
The crackling wood kernels are what make this candle special. I recommend lighting it close to you so you can experience the soothing sounds. The fireplace-like sounds are softer, so it's best to be in a relatively quiet environment when lighting this candle.
A wood wick candle requires similar care to a regular cotton wick candle. Cut the wick before each use, remove the charred pieces of wood, so that the flame remains stable and lasts longer. You can use a pith cutter or small scissors. Let the top layer of wax melt completely to prevent that pesky tunnel effect with excess wax on the sides. The entire diameter of the candle should be melted wax before you blow out the candle. This candle has approximately 50 hours of burn time.
For whom the Threshold 3-Wick Wooden Amber Glass Candle is best
Christmas lovers, the ASMR obsessed, home decor enthusiasts, cozy connoisseurs and homebodies galore, Threshold's Wood Kernel Candle is a sensory experience everyone will enjoy, especially for the holiday season. If you don't have a fireplace, this is the next best thing. No matter which flavor you choose, the crackling wood kernels make the experience more calming with a festive, elevated flair.
Additional details:
The wood seed candle comes in many other flavors:
Where is the Threshold 3-Wick Wooden Amber Glass Candle available?
The Threshold 3-Wick Wooden Amber Glass Candle in Rose and Cedar is available at Target. You can also get the Threshold Woodwick Candles Gift Set ($10), with single wick votives in the leather and embers scent and the whiskey and oak scent.
Grading
Rating:

Image source: POPSUGAR Photography / Anvita Reddy